Introduction
Group travel definition – Though the airlines and hotels have different definitions of what makes a group, in general group travel is when friends, family, coworkers, classmates, and teams travel together. Group travel crosses the spectrum from student groups, school bands, friends getaways, to large offsite corporate meetings and annual church conventions.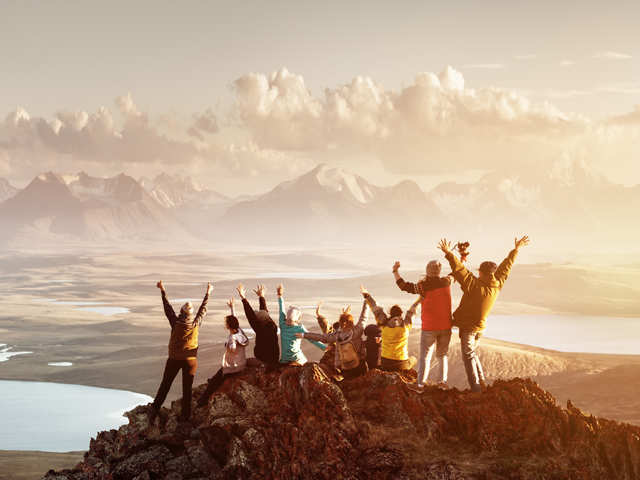 Travel Industry Definitions of Group Travel
The airlines generally consider a group to be ten or more individuals traveling together on the same itinerary. If a group of travelers meets these minimum seat requirements on a flight, typically group rates are available. Many travelers are surprised that group rates are higher than the lowest available single seat price. There is a very good reason for this.
The lowest available price is usually a discounted rate code, which is limited to a certain number of seats on a given flight. Not every individual in a group of ten is likely to get that same low discount rate, especially for popular routes or seasons. What the group rates allow is for a consistent price across the group, and the cost of the entire booking often represents a considerable savings and the convenience of ensuring the same flight for an entire group.
Hotels define groups by the number of rooms in a reservation. The minimum size group booking is between 5 and 10 rooms. Most hotels welcome group business, and depending on the size of group a variety of upgrades or amenities may be available to travelers. This often includes complimentary room nights, discounted group rates, and other group travel incentives. It is beneficial for group travelers to use an experienced group travel professional because he or she knows how to get upgrades, extras, freebies and special services for a group. By optimizing their existing relationships in the travel industry travel professionals can often secure better rates and services than the traveler booking direct.
The Benefits of Group Travel
The growth in group travel is part of the larger social phenomenon termed "togethering". It is a fact that more vacations are being taken in groups these days because people want to share memorable experiences with the people they care about most. Examples include growth in destination weddings. Couples are deciding more and more to have their weddings in a warm destination such as Hawaii or Caribbean, and they are inviting their families and their close friends to be there with them. We also see growth in intergenerational travel: trips in which you may find grandparents taking their children and grandchildren on an extended safari trip to Africa, a grand tour of Europe, or a family cruise.
Group travel provides extraordinary memories that do bring people together. People are yearning for these experiences, and the growth in group travel reflects this.
When you book as a group, there are many travel benefits. It is often possible to lock in exceptional group hotel rates, especially if you have a sizeable group. By using a group travel professional, you can access many of the benefits that airlines, hotels and cruises offer.
Vacations for Working Professionals
Just like students, working professionals also wait for vacations. However, they are not blessed with as many holidays. Working people keep an eye on the long weekends. As the calendar for the New Year is out, everyone begins spotting the long weekends that fall during that year. Working professionals often go for outings with their family and friends during this time. Many also indulge in team outings with their colleagues.
There are a number of working professionals who relocate to different places to seek good opportunities. For such people, vacations mean going home to meet their family. They are immensely excited about the vacations and eagerly await the same. End of the vacation time and parting with their family is quite difficult for them.
Vacations for some working professionals are also a time to take rest to get back to work with fresh mind. Some professionals even take this opportunity to hone their professional skills by taking short term courses. These days there are several online courses that can be enrolled to instantly. Many professionals go for such courses.
For working mothers, vacations mean spending quality time with their children.
Conclusion
Vacations are a great time to bond with your family and friends. This is also a time to follow your hobbies and passion. It is a good idea to plan different vacations differently to make the most of them by building varied experiences.